Darkwing Duck
for the NES and began playing it to see if I could beat this game like I did years ago. Ok, I beat the game on an NES emulator years ago so that's why I played it again. So after watching a couple of episodes of the series and recalling of the moments when seeing them again I felt like playing the NES game to see how well it has turned out. Capcom made quite a few great Disney games for the NES like
DuckTales
,
Chip N' Dale: Rescue Rangers
and, well,
Tale Spin
!? Anyways, in the early 90's there was an afternoon block entitled the Disney Afternoon in which I was a kid right after school I would tune in to watch shows like DuckTales, Chip N' Dale, and Tale Spin. The original lineup was a 2 hour block which had shows that were based off of Disney characters from old Disney cartoon movies and shorts. DuckTales contains characters based off of Donald Duck, his 3 nephews and Scoorge McDuck. Tale Spin has characters from the Jungle Book movie and Chip N' Dale: Rescue Rangers has both Chip and Dale from their short shows. But
Darkwing Duck
was an original series with new characters based of no movies or other origins. The series debuted right after DuckTales retired off the Disney Afternoon block around 1991 and was an instant hit when it hit the air waves. I was a huge fan of the series as much as I was a huge fan of shows like G.I. Joe or Teenage Mutant Ninja Turtles. I even had the action figures of
Darkwing Duck
too! I had
Darkwing Duck
, his sidekick Launchpad, and the Thunderquack plane. I never owned any of the other figures and never had Darkwing's Ratcatcher motor bike either. Oh well, but at least I had a piece of the series when I was young. I just wish I didn't sell those figures in a garage sell like I did with my original TMNT figures. :(
In the early 90's as a kid you knew when a show was hot and was a hit you knew a video game was probably on it's way right? Correct!
Darkwing Duck
arrived on the NES system for all fans like me. The game plays just like Mega Man but who cares right? It's freakin' Darkwing!!! The intro song is in the game right before you press start. You start the game and you choose where to go and who to take down just like in Mega Man. Alright, here's the enemy rundown for this game. We have, Bushroot, Megavolt, Liquidator, Quakerjack, Moliarty, and your final boss is the mastermind behind the whole mess of this game is Steelbeak. There's one character I forgot to mention and that's because he's not part of the the series, Wolfduck. According to wikipedia, this character is a made up villian for the game only. It's odd they didn't include Darkwing's evil twin Nega Duck. I thought he was more evil and powerful compared to Steelbeak.
The gameplay in this game is great but I have a few negative complaints about a few things. When Darkwing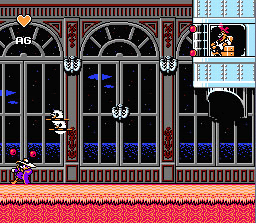 jumps to shoot his gas gun at enemies, for some reason the response doesn't respond. I get hit and quickly get killed. Another complaint is when you jump down from platforms or ledges you have to press down and jump but when you don't want to hang on the platform you have to press down again. It's really a pain since most of the bosses in this game require you to master this since most of the boss fights have platforms you have to jump and hang on platforms. Overall, everything is great. Steelbeak and Moliarty are the only bosses which gave me a pain in the ass to beat. Steelbeak was dissapointing for being the final boss fight in the game. Once you break down his wall he fights you with a steel plate. Weak!
Overall this game is still nice to play. One of Capcom's classics from Disney for the NES. It's too bad they couldn't make another game for poor Darkwing. It would have been nice. Yes I know, WTF happened to Ninja Gaiden III? As of right now I'm still having a hard time playing that game. I keep getting killed on stage 3!!! But that's for another time.
"Let's Get Dangerous!!"